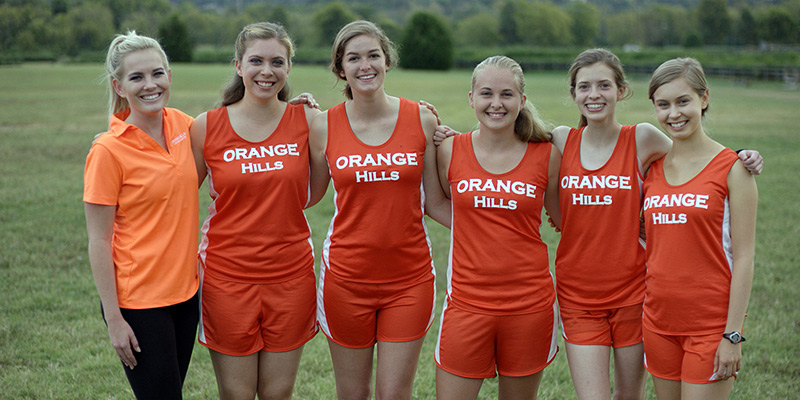 Cast Members of REMEMBER THE GOAL
Allee-Sutton Hethcoat | Quinn Alexis | Sydney Marks | Margaret Tant | McKensie Miller | Jayla Palmer
REMEMBER THE GOAL, an inspirational movie about a girls cross country team, is next from the Christiano Brothers to be released in theaters on August 26, 2016.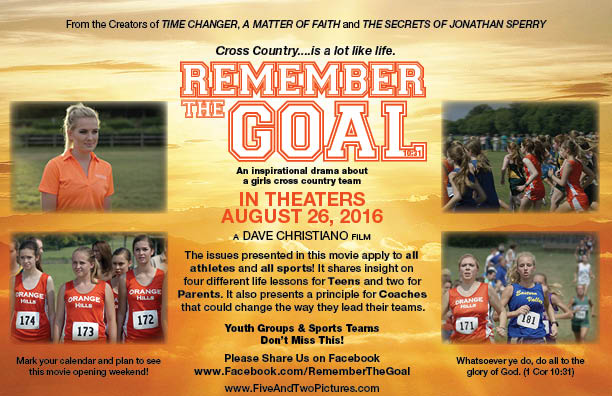 Thanks for visiting Five & Two Pictures. We are excited to introduce to you our newest project, a dramatic film entitled REMEMBER THE GOAL. This movie is an inspirational drama about a girls cross country team. Not only does this movie highlight the sport of cross country, it also presents multiple life lessons for Teens, Parents and Coaches.

REMEMBER THE GOAL is the story of a female Coach, just out of college, who takes over the cross country program at an all girls private Christian school and sets a goal for them to win the state meet. She is smart, courageous, humble and has wisdom beyond her years. She is also a strong role model for Athletes and Coaches.

Dave Christiano, the film's director, is a former cross country runner in high school and college, plus he has coached two cross country teams. He is passionate about running and has ensured that this movie represents the true world of his sport.
Share Remember The Goal on Facebook

---
The Current Film from the Christiano Brothers
A MATTER OF FAITH - Still In Selected Theaters for One Night Special Showings. Also available on DVD.
A Christian girl, Rachel Whitaker (Jordan Trovillion), goes off to college for her freshman year and begins to be influenced by her popular Biology professor (Harry Anderson) who teaches that evolution is the answer to the origins of life. When Rachel's father, Stephen Whitaker (Jay Pickett), senses something changing with his daughter, he begins to examine the situation and what he discovers catches him completely off guard. Now very concerned about Rachel drifting away from her Christian faith, he tries to do something about it!
Other Movies From the Christiano Brothers
For more information on any of these movies, please click on the poster and it will take you to the website for each film.
SPECIAL OFFER
You can order the 6 feature films on DVD- A Matter Of Faith, Amazing Love, The Secrets of Jonathan Sperry, Me & You Us Forever, Unidentified, and Time Changer - and get all 6 at our special sale price of $64.
(Order processed through ChristianFilms.com. Shipping in USA is $7).
DVD Total Retail Price: $109.94
All 6 DVDs for $64
Five & Two News
Dave and Rich Christiano
REMEMBER THE GOAL is being planned for the largest release of any Christiano Brothers film, currently being scheduled for approximately 350 theaters on opening weekend.
Five & Two History
Five & Two Pictures distribution was formed by Rich and Dave Christiano in 2002 with their first theatrical release TIME CHANGER.
The time travel movie opened on October 25th in 169 theaters and eventually played in 310.
On April 28th, 2006, Five and Two Pictures released their second film, a drama about UFO's entitled UNIDENTIFIED.
This was a smaller platform release, opening in 6 theaters and playing in a total of 85.
On February 15th, 2008, film number three, a love story ME & YOU, US FOREVER, was released to 83 theaters.
THE SECRETS OF JONATHAN SPERRY, a heartwarming period piece set in 1970, was the fourth film from Five and Two Pictures.
It opened in 118 theaters on September 18th, 2009 and ended up playing in 313.
Five & Two Pictures also distributed AMAZING LOVE, the story of Hosea, a non-theatrical release.
It was originally released for church rental in May 2012 and then on DVD later that year.
Film six, A MATTER OF FAITH, played its first theater on September 19, 2014. It's the story of a Christian girl who attends college for her freshman year. She is a biology major and her Professor is an evolutionist. His wit and personality start to sway the girl from her Christian foundation. This movie is currently in selected theaters and has played in almost 200 so far.
Film seven is called POWER OF THE AIR. This dramatic feature film deals with the influence of Hollywood and the media on believers in Christ.
It features in the lead roles Nicholas X. Parsons, Patty Duke, Michael Gross, Tracy Goode and Karyn Williams.
It is being planned for theatrical release but the date has been pushed back and is presently not set. It will now come out in 2017.
Film eight is REMEMBER THE GOAL, a movie about a high school girls cross country team. This is now set for a theatrical release on August 26, 2016. The Five and Two Pictures team hopes this movie is their widest release to date.
Questions or Comments? We would love to hear from you.